Why is Vietnamese food so damn good
Mjamm, mjamm - food in Vietnam
! Updated February 27, 2019
Vietnamese food - the main reason we picked the country as a travel destination (and so do our kids, by the way!). In this post we tell why Vietnam is a particularly child-friendly country when it comes to food, which dishes you shouldn't miss and what to look out for to avoid Montezuma's revenge.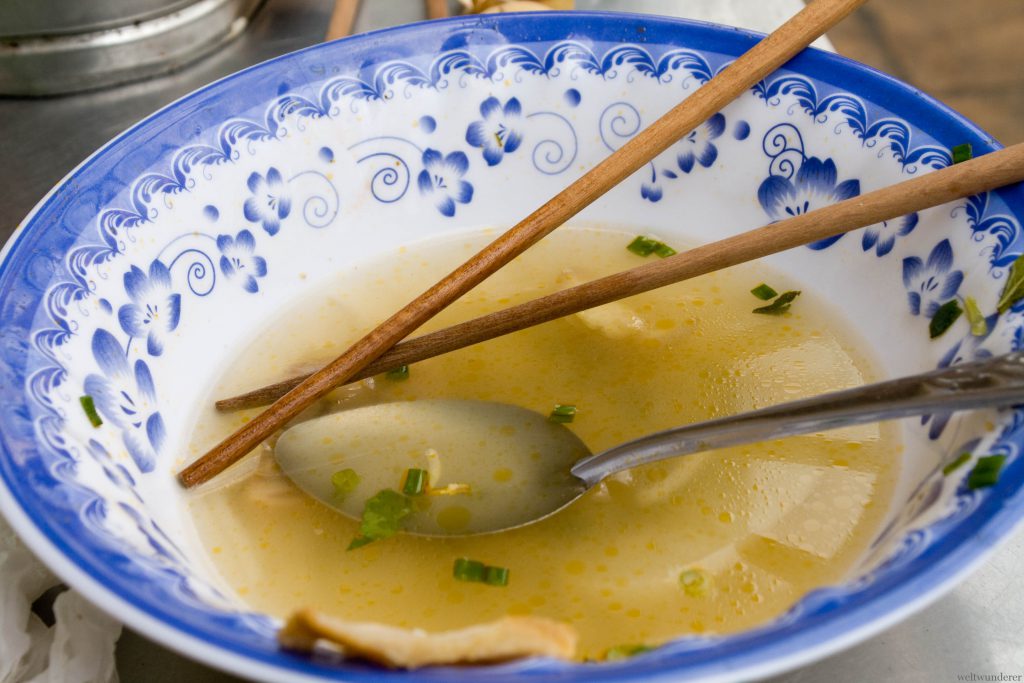 Delicious Pho
Vietnam's cuisine is extremely diverse and interesting - influences from China, Thailand and Korea, but also from France (former colonial power) and of course modern fast food imported from good friend USA can be found here. There are also many things to try here for picky eaters: mild, clear noodle soups with clearly identifiable ingredients that can be added individually, and fluffy, soft baguettes with a hearty topping, to name just a few.
The web tip par excellence on the topic: "The Dropout Diaries" - Barbara, an Australian resident and family in Saigon, blogs here regularly about her culinary everyday life in the Vietnamese city and shows one delicious dish after the other that you should try ( and says where to find it!).
For advanced learners, Barbara and her husband even organize food tours through Saigon, which are supposed to be very family-friendly (no wonder, the two have a little daughter of their own). Unfortunately, Barbara only decided to launch her small business a few weeks after our stay in Saigon - what a shame!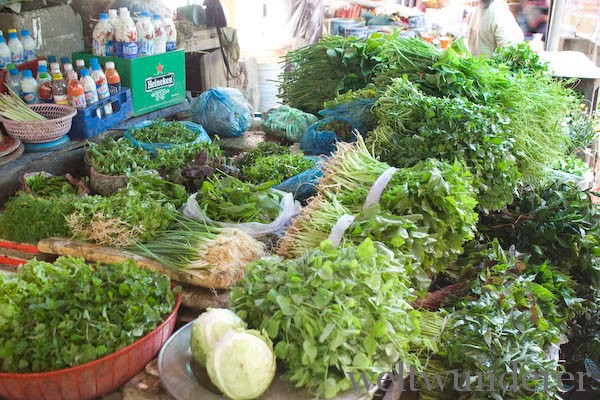 Hmm, fresh herbs!
What do you eat in Vietnam?
We can only name a small selection here; dozens more great dishes (but still only a small selection) can be found in Barbara's blog.
"Pho" is the ubiquitous noodle soup that Vietnam is famous for. Thin rice noodles float in a broth with a splash of Vietnamese fish sauce ("nuoc mam"). Bite-sized pieces of chicken ("ga") or beef ("bo"), bean sprouts, dozens of herbs, limes, chilli and other ingredients are also available to throw in (or leave outside). The meat should still be raw, it is just cooked properly in the hot broth. Many Vietnamese eat pho for breakfast, but it actually works at any time of the day.
"Bún Cha" is a dish of marinated pork with rice noodles (which are often portioned with scissors) and a side dish of deep-fried, crispy crab patties ("Nem Cua Be"). We found it to be delicious, incomprehensibly not the children.
The Vietnamese spring and summer rolls, which are wrapped in wafer-thin, transparent rice paper, are called "Bo Bia" (variant: "Gui Cuon"). The joke is the sausage slices you can see through the paper; behind it there are still shrimps, vegetables, rice noodles, lots of tart herbs and peanuts. The whole thing is dipped into different sauces as a snack for in between and eaten with the fingers - which child doesn't like that?
Tip: The rice paper will quickly become hard and tough when the spring rolls are left in the air. So don't get ready-made rolls (haha), always buy only those that are freshly prepared for you!
Hmm, dried fish !!
Many tourists are amazed at "Banh Mi": real baguettes in Southeast Asia ?? Well, in my opinion they don't taste really French - there is no salt in the dough and the rind is not quite as crispy - and the topping, which the Vietnamese prefer, completely fades the memory of home: "Banh Mi" are included Vietnamese liver pate, sausage, chicken and / or tofu topped, with cucumber, chiles and lots of fresh herbs. Tastes surprisingly different, but very good!
Tip: If you really need bread for breakfast, you can try a "Banh Mi Trung", then it is topped with butter and scrambled eggs or fried eggs.
"Ca Phe Sua Da" is a very special treat that has to be mentioned here, even though it is a drink: Vietnamese coffee is a unique specialty and damn tasty - especially for those who like it sweet. Definitely try it!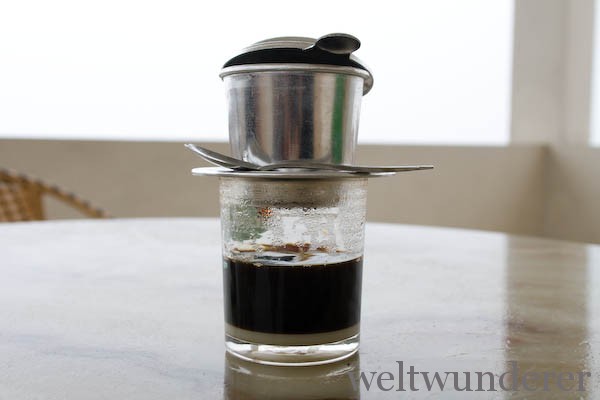 Ca Phe Sua Da - a poem!
How do you eat in Vietnam?
Quite simply: everywhere. In fact, it is easier to find something to eat in Vietnam than it is to park your moped. Every meter of footpath that is not parked is filled with tiny stools and tables at daybreak, at which customers of the typical Asian cookshops take a seat for a quick soup. It is eaten with chopsticks or with the hands.
As is common in all of Southeast Asia, most chefs only offer one or two dishes. In Vietnam these are mostly signposted - with a little practice you will soon know what to expect.
Attention: Especially in the popular tourist areas, you should negotiate the price of the food in advance at such food stalls without a menu; Unfortunately, even as a dining guest, you get ripped off all too often. Incidentally, a menu does not automatically protect against this; look carefully to see if local guests are served the same card (most likely not) and still always negotiate the price! We were very surprised that we often got our order without any problems for only half of the stated price - those who show up with four offer a considerable source of income.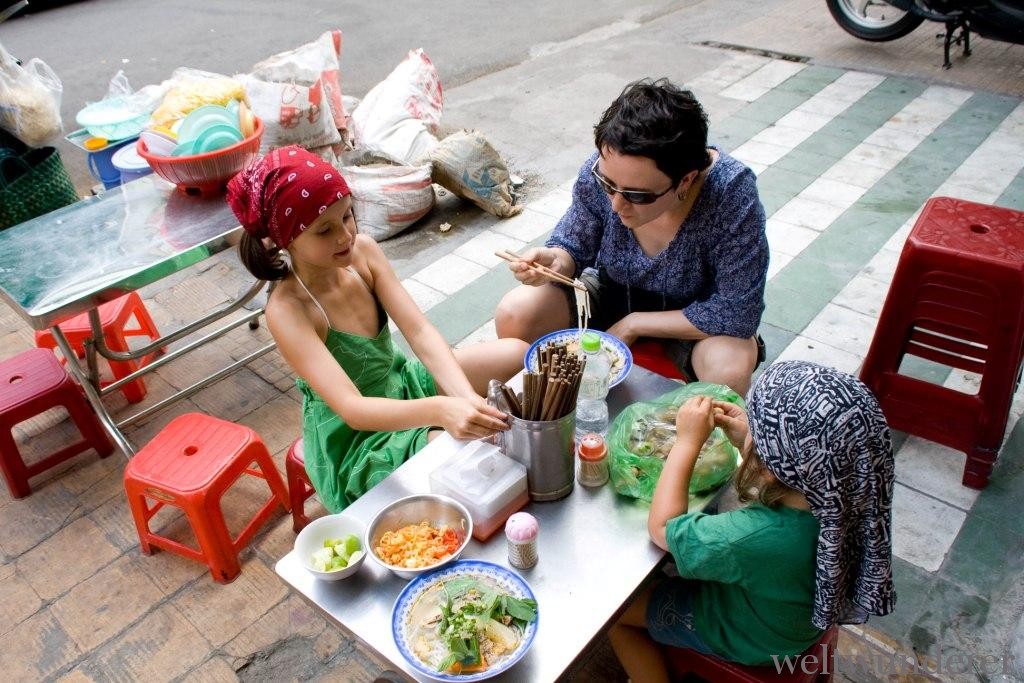 Street restaurant in Saigon
Eating in Vietnam with children: complaint alarm?
Especially in the first few days or in a bad mood (because traveling is often stressful), many children are not able to adjust to exotic food. In these moments, parents need understanding - and in an emergency they have to quickly buy a pack of biscuits in the supermarket. There are always numerous "Western Style Restaurants" in the larger cities of Vietnam; however, the quality often leaves a lot to be desired and the food costs many times as much.
We usually preferred to offer our children a very simple dish like "Fried Noodles" or "Fried Rice" or even "Plain Rice"; Together with a few interesting snacks from our plates, it was enough to fill you up, the rest of your hunger was satisfied with fresh fruit from the market and baguettes (without toppings) from the supermarket. The Dropout Diaries also report on Vietnamese fries ("French Fries"), which are served with a dip made of melted butter and sugar instead of red and white. Well, if that doesn't sound delicious ...?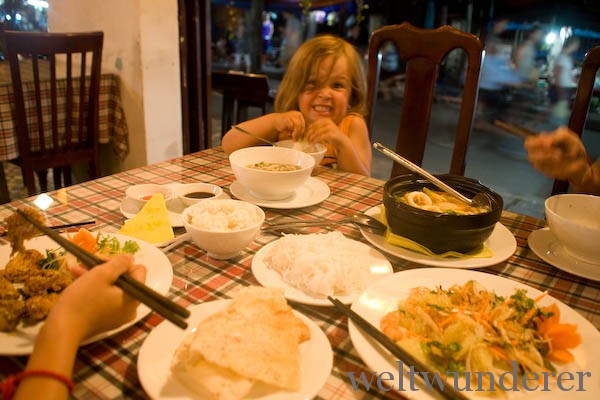 Everyone can try it - "Mermaid Restaurant" in Hoi An
Stomach problems from eating in Vietnam?
Many travelers suffer a lot from digestive problems, especially in the first few days after arrival. Although we didn't have this problem in Vietnam, we would like to say a few words about it:
Bad food is not always to blame if the stomach pinches and the toilet takes longer. Sometimes something like this is simply caused by the change in diet, in the ingredients or in the time difference and the climate change. As long as there is no stomach pain, colic or vomiting associated with it, this is completely normal and will go away by itself after two to three days. That is how long you should eat "plain rice" or baguette. And of course drink a lot (no cola, that's nonsense)!
The golden rules are the same as in other travel countries:
It is best to choose well-frequented restaurants and cookshops where the ingredients do not lie around long (unrefrigerated) before they are used
Wash fresh fruit well (with bottled drinking water!), it is better to peel it
do not accept freshly pounded ice cubes in beverages; industrially manufactured (the round ones with the hole in them) are okay
In general, the best way to toughen your stomach is to eat as much local food as possible. Vietnamese are very health-conscious and cooks make sure they only sell high-quality food - after all, you want the guests to come back. (In restaurants for tourists, however, things can look different: Here, according to the Vietnamese mentality, it doesn't matter how the food affects, the main thing is that you can earn money with it first ...)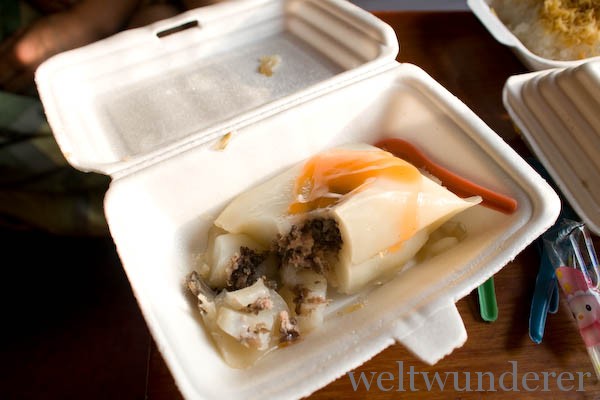 Brave: This is what you get when you buy (and open) a packet of banana leaves
-> Christina was also in Vietnam with her family and just as enthusiastic about the food: Take a look at her list of typical dishes in Vietnam to whet your appetite!