What is the poverty rate in the USA
Poverty in the US reaches record levels
In the United States, more people than the total population suffer from poverty than there have been in nearly two decades. Last year, 15.1 percent of all Americans lived below the poverty line, as the US statistics agency announced on Tuesday (September 13, 2011). This is the highest value since 1993. In absolute terms, 46.2 million US citizens were considered poor in 2010, the highest number since the survey began 52 years ago.
Gloomy trend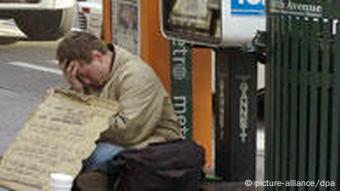 According to the OECD, the USA has the highest poverty rate of all industrialized countries
The numbers rose in 2010 for the fourth year in a row. In 2009 the poverty rate was 14.3 percent, in 2000 it was 11.3 percent. The current poverty line is officially set at an annual income of $ 22,314 for a family of four and $ 11,139 for a single person. The limit is adjusted annually for inflation.
According to the OECD, the United States has the highest poverty rate of industrialized countries. Poverty is particularly widespread among African American citizens (27.4 percent) and among the population of Hispanic descent (26.6 percent). Even among children, poverty is no longer a marginal phenomenon in the USA: around one in five children there now lives in poverty.
Falling real income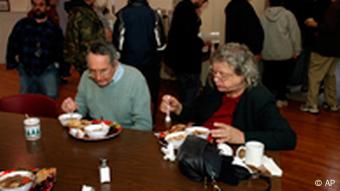 Soup kitchens save the poor from starvation
The numbers also reflect the poor economic situation. The USA is still suffering from the aftermath of the recession that was triggered by the financial and real estate crisis four years ago. The unemployment rate averaged 9.6 percent in 2010. According to statisticians, the median household income has fallen 6.4 percent since the start of the recession in 2007 to $ 49,445. Overall, household income has barely moved compared to inflation over the past 30 years: While an average family, adjusted for price, now earns only eleven percent more than in 1980, consumer prices have risen by around 155 percent, reported the US television station CNN.
Author: Martin Schrader (afp, dpa, rtr)
Editor: Walter Lausch