How can I completely forget my childhood
10 wonderful childhood memories you will never forget!
As a child everything is different: the trees are taller, the colors more intense - and every new day is more exciting than the previous one. Some childhood memories stay with us for a very long time - or even a lifetime.
We have collected ten particularly beautiful anecdotes from childhood. Maybe something similar happened to you?
# 1 My grandparents' garden
"When I was about 7 years old, I was really looking forward to visiting my grandparents in the country. When I was 14, I found my parents and their rules just super annoying. When I was 20, I thought that my grandma had somehow gone crazy with her weed mania. She not only plucked it out in the flowerbed, but also on the garden fence. At the age of 25, I actually only liked a life in the country for barbecuing, at 35 I thought that one could try to plant radishes in the garden, at 45 it finally worked out with my vegetable garden. At the age of 60 I caught myself being bothered by the weeds on the fence and at the age of 78 I am now carrying my family's luggage to the house and none of them help me with the garden because they think that I can do everything could buy in the supermarket. Only my great-grandson makes me very happy because in summer he always looks forward to visiting us in the country. Life is a cycle. "
Source: pinterest.com
# 2 On the way to kindergarten
"My father always took me to kindergarten. One day in winter the road was completely covered with ice - and after a few unsuccessful attempts to run, we climbed the mountain on all fours. We both got there just in time, me at school and he at work. "
# 3 The bee farm
"I remember like it was yesterday: my grandpa had a beehive in the country. We always went there by bike with an extra seat. My grandma provided us with milk and homemade bread and when we arrived we always put the milk in the river to keep it nice and cool. Then we ate fresh honey with bread and drank the ice-cold milk with it. That was an unforgettable experience. "
Source: pinterest.com
# 4 The tastes of my childhood
"For me, the best memories are mostly small treats. For example, I always ate a two-biscuit sandwich with butter in the middle. This is the pure taste of my childhood. Tomorrow I'll buy myself another condensed milk - you all know what I mean, don't you? "
# 5 After work
"When I was around 5 years old, I was convinced that my father would just sit in front of the TV because he was bored. That's why I would go to my room and break my toys on purpose - and then I would bring them to my father so he could fix them. I thought that would give him pleasure. "
Source: pinterest.com
# 6 gold dust
"When I was little, my grandma worked in a department store and often took me there. One day she didn't take care of me well enough and I got away from her. She then found me next to a barrel of gold dust that I had spread nicely through my hair to make me look like Rapunzel. Even though we washed my hair several times, I glittered like a fairy everywhere for weeks. "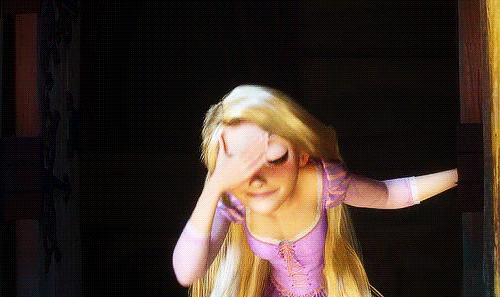 Source: tenor.com
# 7 Broken jeans
"I vividly remember my mother scolding me once and saying, 'If everyone started wearing ripped jeans, would you do it too?" I don't know exactly when this trend started, but their prophecy came true. "
Source: pinterest.com
# 8 Caught freezing
"There was that one winter when I was playing outside with my friends and we were trying to do pull-ups on the swing frame. We were all in our thick winter clothes and probably looked very funny hanging around there. And then someone asked me if I could stick my tongue to the metal. Oh, I really wasn't the brightest candle on the cake back then ... "
Source: pinterest.com
# 9 actors
"When I was little, my parents would often send me to the store to do some shopping. I had often forgotten something and then had to go again. To make sure the shop assistants didn't think I had a bad memory, I always wore my jacket the other way around, re-styled my hair and tried to change my facial expression and my voice. I was a true master at it. "
Source: pinterest.com
# 10 weather cat
"As a child, I thought that a curled-up cat was a sign of bad weather. So I just "unrolled" all the cats I saw and hoped that the weather would get better. "
Source: pinterest.com
Which childhood memories do you remember particularly well? Share your anecdotes in the comments!