Mental illness can be prevented
Preventing chronic mental illnesses - strengthening outpatient psychotherapy
Tuesday October 16, 2018
Current care study on the situation of outpatient psychotherapies on reimbursement according to § 13 Abs. 3 SGB V in private practices
Joint press release of the State Chamber of Psychotherapists
Baden-Württemberg, Bavaria, Berlin, Bremen, Hamburg, Hesse, Lower Saxony, North Rhine-Westphalia, Saarland and Schleswig-Holstein
Berlin / Hamburg / Stuttgart etc.
Final report - download at the bottom of the page
Health care for mentally ill people and people seeking psychotherapy who are covered by statutory health insurance has deteriorated significantly in terms of reimbursement in the last two years. As a study presented today in Berlin shows, the statutory health insurance companies have been rejecting significantly more applications for reimbursement of non-contractual psychotherapies than in 2016, despite legal obligations. Rüdiger Nübling (LPK BW) and Karin Jeschke (PTK Berlin) developed a care study on the current situation of non-contractual outpatient psychotherapies in private practices. The study is based on a survey among psychological psychotherapists and child and adolescent psychotherapists in the 1st quarter of 2018 with a response from 2,417 participants. The The approval rate for applications for reimbursement of costs fell from 81% to 47% within one year. If applications were approved, the number of approved therapy sessions fell by an average of almost 25%. The processing time for applications increased from an average of 6.6 to 8.4 weeks (by 27%).
Insured persons are deliberately misinformed by health insurers
As the study also shows, many rejections were wrongly justified by the health insurance companies. About half of the respondents reported that the patients had been told that reimbursement was no longer allowed. 82% of the respondents reported rejections that were justified with the introduction of appointment service points. As a result, all patients are now taken care of. In fact, these offices arrange trial sessions, but not necessarily therapy places.
Health insurance companies use complicated regulations to make it more difficult for mentally ill people to take advantage of psychotherapeutic services. In this way, the health insurance companies save costs instead of showing patients ways to therapy and helping them.
Goal: Care planning - based on patient needs (Section 13 (3) SGB V)
Michael Krenz, President of the State Chamber of Psychotherapists Berlin, comments: "By restricting the reimbursement of costs for non-contractual psychotherapies, health insurance companies are reducing the already inadequate outpatient treatment options for those insured by statutory health insurance companies." Heike Peper, President of the Hamburg Chamber of Psychotherapists, adds: "We demand care planning based on regional care requirements, which is based on the specific treatment needs of patients."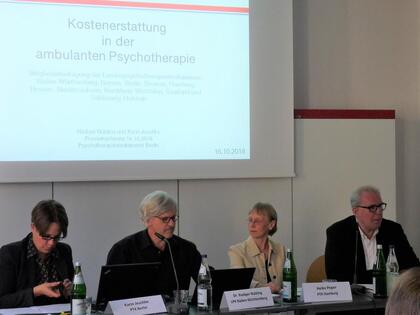 From left to right: Karin Jeschke, Dr. Rüdiger Nübling, Heike Peper and Michael Krenz
Our demand: promote the possibilities of "outpatient before inpatient" treatment promptly instead of hindering them
The chambers involved are calling for rapid measures to prevent mental illness from becoming chronic in patients for whom there is currently an indication for psychotherapy, in order to ensure a quick start of treatment "on an outpatient basis before inpatient treatment". The legislature must ensure that, in accordance with Section 13 (3) SGB V, the reimbursement of costs for psychotherapy in private practices continues to be approved by the health insurance companies. The statutory health insurances are obliged to finance the necessary outpatient psychotherapy non-contractually by way of reimbursement if the provision of treatment cannot be guaranteed within the framework of the contractual practice. The prerequisite is the diagnostic determination of a mental illness or the presence of a disorder with disease value and the indication for outpatient psychotherapy.
For better patient care, the Chamber of Psychotherapists is convinced that the lifting of restrictions on job sharing, employment relationships in practices and the filling of (half) practice seats is urgently needed. This is currently hampering possible capacity expansions.
The statutory health insurances finance outpatient guideline psychotherapy - i.e. behavior therapy, depth psychological psychotherapy and psychoanalysis - with resident therapists in contract practices. The already inadequate capacities for guideline psychotherapy in contract practices in many places are further reduced by the services "Psychotherapeutic Consultation" and "Acute Treatment" newly included in the Psychotherapy Guideline.The obligatory mediation of probatory sessions via the appointment service points since October 1, 2018 exacerbates this situation, since contractual practices have to keep time free for this, even if no indicated follow-up treatment can be offered.
Please direct any queries to Dr. Rüdiger Nübling (nuebling [at] lpk-bw.de).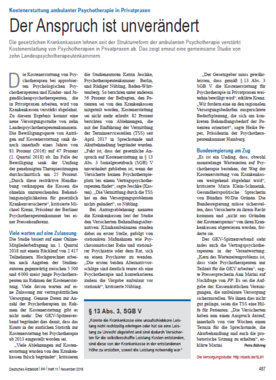 Follow us on Twitter
Office
State Chamber of Psychotherapists Baden-Württemberg (LPK BW) - corporation under public law
Jägerstrasse 40
70174 Stuttgart
Tel: 0711 674470-0
Fax: 0711 674470-15
Email: info [at] lpk-bw.de
DE-Mail: info [at] lpkbw.de-mail.de
Meeting of representatives
meets on:
22.-23.10.2021
German Psychotherapists Day DPT
39th German Psychotherapist Day, November 19/20, 2021 Berlin
Feedback
to the chamber. Ask? Criticism? Praise? Proposals? What can we do better?
Write us:
nuebling [at] lpk-bw.de (general)
tessmer [at] lpk-bw.de (legal issues)
kosutic [at] lpk-bw.de (advanced training)
Entry search service
As a member of LPK BW, you can be entered in the psychotherapist search service on the website. To do this, please open the questionnaire, print it out, fill it out, sign it and send it to the LPK BW office by post or fax. By submitting the signed form, you give permission for the information contained therein to be published. For data protection reasons, we can only make entries or changes (e.g. the address) if we have this signed document.