What screams I'm upper class in London
Pro-Brexit protests in London: In enemy territory
On the day the UK did not leave the EU after all, Brexiteers fill the government district. There are two separate rallies.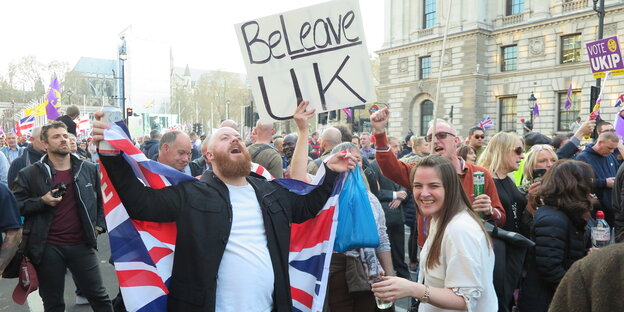 "Out!" "Freedom": At the ultra-right rally in Whitehall Photo: Daniel Zylbersztajn
LONDONtaz | In contrast to the hundreds of thousands of EU supporters who marched through London on March 23, only a few tens of thousands came to the march of Brexit supporters on March 29. Nevertheless, it was noted on many of the posters that they brought with them that this smaller group was the 52 percent majority of British people who - in the referendum three years ago, voted for "Leave".
As in the referendum in 2016, this time there were two pro-Brexit events in the administrative district. The group "Leave Means Leave", co-led by Nigel Farage, had planned the end of their 14-day protest march across England for this day - this March 29 was actually supposed to be the last day of Britain's EU membership.
Then Farage's former party Ukip (United Kingdom Independence Party) decided to protest of its own.
Farage resigned from Ukip in December in protest against the recently ultra-right and Islamophobic behavior of the once merely anti-EU party under its new boss Gerard Batten. He has made the right-wing extremist Tommy Robinson (real name Stephen Yaxley-Lennon), leader of the no longer existing thugs "English Defense League" with multiple criminal record, as a consultant.
So on Friday Robinson spoke for the first time on the Ukip stage on London's government mile Whitehall, while Nigel Farage, Kate Hoey of Labor and Leave Means Leave founder John Longworth appeared in front of a sea of ​​British Union flags a stone's throw away in front of Parliament.
Some French yellow vest flags and a couple of yellow flags from the Identitarian Movement could also be seen.
In the blue suit, Farage complained that this day was not a public holiday. "History will mark this day as the day of great deception," he claimed. The last two years are the saddest and worst chapter in the nation.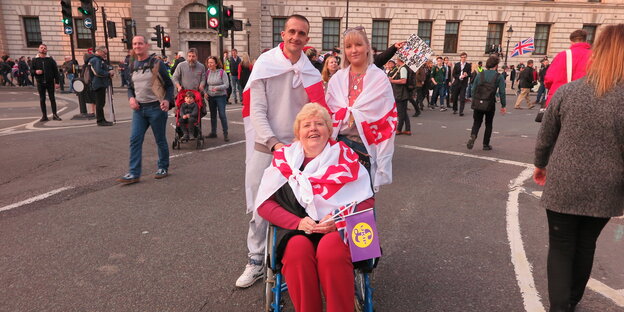 "Nigel Farage is my hero": Angela Meads has come to London from Dorset Photo: Daniel Zylbersztajn
Angela Meads from Dorset in the west of England just came here for Farage. "He's my hero, he'd have to be prime minister, then we'd be out of the EU now," she enthused. The 75-year-old let her children drive her to London even though she is in a wheelchair. "I wanted to make it clear that we have to leave the EU."
The Londoner Venetia Taylor, 40, got on a bicycle with her children, wearing a T-shirt with the words "WTO Rules" on it - that stands for a no-deal Brexit, in which Great Britain's trade with the EU merely complies with the rules of the World Trade Organization subject.
"If Remain had won the referendum, I would have backed down, but that wasn't the case," she says. Their fear is that democracy has simply been pushed aside, "The EU is not the same as Europe!"
There are also people like Sam Ayumu, 54, a Briton from Uganda. He is in favor of Brexit so that an independent Great Britain can trade fairly with African countries, he says. "The large sums of development aid are damaging us. They condemn us to poverty and exposure and that is what spurs the wave of refugees on, "he believes.
Finally, the protesters sing hymns of British patriotism. "I Vow to Thee My Country" and "Rule Britannia" echo from the loudspeakers in front of Parliament.
Up in Whitehall, meanwhile, Tommy Robinson is spitting great sounds. He describes Westminster, the British government district, as enemy territory. Many people, some of whom are drunk, are shouting loudly towards him, almost like at a football game. "Brexit!", "Out!", "Freedom!" Is the shouting. Vodka, wine and champagne bottles are scattered on the floor, here and there purple Ukip flags can be seen.
This is all due to the presence of the "Football Lads Alliance", a group of football fans against Islamist extremism that has meanwhile been classified as right-wing extremism. Still, there is no vicious mood, although some guys with their muscles and tattoos don't seem friendly when they say "Treason! Treason! "And mean the politicians.
Some even sit on camping chairs in the sun like it's a picnic. There are plumbers, nurses, janitors, workers.
Some take photos of Kerozia Roussh, 31, from east London, who is standing here with her children. Her dark skin tone makes her stand out from the crowd. Roussh is a nurse. Her parents immigrated to England to work as a nurse here, she says. "I want Brexit so that no migrants come into the country who do not want to work, unlike their parents' generation."
Deen Brockley, 45, of Wigan thinks Tommy Robinson is expressing whatever he feels. "I'm not a racist," he emphasizes twice. "But this is my country, and it is just not right that 27 other states are in charge of it." He talks about how his father was a miner under Thatcher and that communities like his have been forgotten.
"The problem is that immigration has been growing too fast in recent years, too fast for integration," he says. "I'm afraid that if it continues like this, people may actually become racist."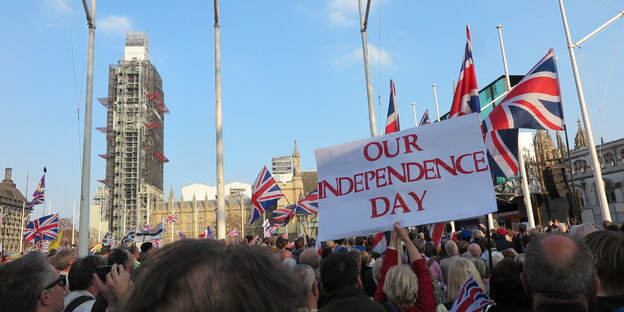 The official Leave rally in front of the scaffolded parliament building Photo: Daniel Zylbersztajn
While he is talking to the taz, bystanders advise him not to speak to journalists. "They betrayed us too," shouts a man.
The protesters at both events eventually quickly vanished into the evening streets of London. Some stand out among smartly clad Londoners with their flags and T-shirts and their alcohol levels. Others find their way into the city center's overcrowded pubs.
Jane Hill, 62, is on her way home. The retired driving school instructor lives in Manchester. She took part in the Leave protest. Didn't people like Hill know what they were doing when they voted for Brexit?
"Nonsense, people like me voted for Brexit against all the dire prophecies that the Remain groups warned us about," she says. Your concern is now different: broken relationships with friends and families because of the referendum.
"I don't know how the divided country can find its way back together," she regrets. "No, I have no idea how we can get back together."